TabletSoap Sanitizing Charging Locker
TabletSoap Sanitizing Charging Locker securely stores up to 8 devices under lock and key. Better yet, it simultaneously sanitizes and charges your devices while they are locked away!
ENTREGA STANDARD GRATUITA

Opções de entrega:

Envio rápido e seguro
Devoluções rápidas e fáceis de 30 dias
Caixa segura usando criptografia de 256 bits
Atendimento ao cliente
Cadastre-se em uma conta comercial
Porquê comprar?
Lock and store 8 devices
UV Sanitizer kills 99.99% of Germs
Universal Charger
Quickly change your cables
Neat and tidy - avoid tangling cables
Descrição do produto
UV Sanitizer kills 99.99% of Germs
TabletSoap Locker uses UV-C light which is the safest and most thorough way to kill all the bacteria growing on your devices. While there are multiple ways to clean a device, this is the safest, most effective way. TabletSoap does not use liquid, heat or any harsh chemicals; only light! A series of UV-C lamps line the top of the locker allowing the light to surround your devices and ensure the removal of any unwelcome guests. In a matter of minutes, all of your stored devices are sanitized!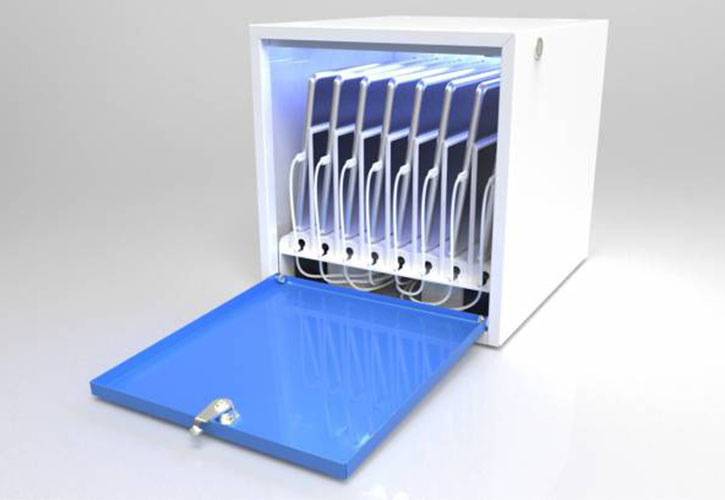 Universal Charging
TabletSoap is universal. It is designed to fit tablets, E-readers and phones so you can be assured most devices will fit inside. You are able to quickly change your cables using the USB ports inside the locker to sync and charge each of your devices.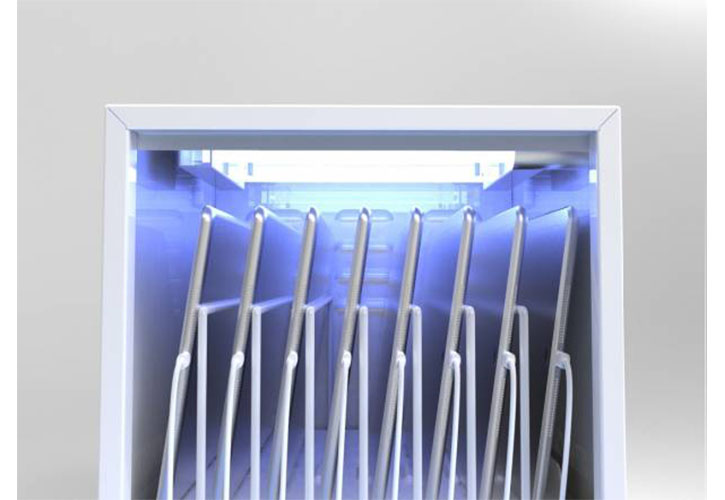 Securely store up to 8 devices
TabletSoap Locker provides a safe place to store personal electronic devices where ever you use them. The locker consists of a drawer with a key lock on the outside. On the inside, the separate compartments provide a convenient and secure spot for each device.
Neat and tidy
The TabletSoap Locker was designed to be neat and tidy. There are separate compartments for each device along with a drawer underneath to keep any cables.
Please Note: No USB cables are included with this product
Entrega e Devoluções
Serviço de Correio - 0 €
Um serviço de correio fiável e de baixo custo, adequado às suas encomendas menos urgentes. Este serviço não é rastreado e é normalmente entregue em 4-8 dias úteis.
Serviço de Correio Rastreado - 7,99 €
Serviço de correio rastreado, seguro e confiável, geralmente entregue em 3-4 dias úteis.
Envio DHL Express - 16,05 €
Um serviço rápido, seguro e confiável. O seu artigo receberá tratamento prioritário e beneficiará de um serviço completo de rastreio online para que possa verificar o progresso da sua encomenda ao longo do percurso. Normalmente demora 1-2 dias úteis.