Capa Olixar FlexiCover Proteção Completa Galaxy S9 Plus - Transparente
Apresentamos Sugru, a primeira cola moldável do mundo que se transforma em borracha. Graças à sua tecnologia de silício patenteada, Sugru adere a qualquer superfície, sendo flexível e durável. Ideal para a fixação de cabos danificados!
Frequentemente comprados juntos
14,99€

Preço ao consumidor 16,49€ - 9% off
---
Comentários mais úteis
Comentários
256761

It did its job, just like it should.

| | |
| --- | --- |
| | Xavier Rabi |
| | iphone |
| | Montreal |
| | 29th Outubro 2019 |

252455

I tried this product thinking how can this possibly work, but it did! It's a very unique product easy to work with does what it says it will do. Kudos to those that made it and to those that make it available to consumers.

| | |
| --- | --- |
| | Mary Rossman |
| | USA |
| | 20th Agosto 2019 |

250799

Made a nice supportive cover over my fraying ear phone cord.
Check it out on Youtube.

| | |
| --- | --- |
| | Bruce Cumming |
| | Samsung Galaxy s10e |
| | Sydney Australia |
| | 21st Julho 2019 |
Porquê comprar?
Adere a quase todas as superfícies
Extremamente versátil
Fácil de moldar
Forte e durável
Suave mas agarrado
Removível
Descrição do produto
Adere a quase todas as superfícies
Quase não há limites para o que você pode anexar ao Sugru - ele pode aderir permanentemente ao vidro, metal, madeira, cerâmica e a maioria dos plásticos.
Extremamente versátil
Sugru é adequado para muitas aplicações diferentes, por isso, quando se trata de seu celular há uma abundância de usos. Sugru é ideal para adicionar aderência adicional a um telefone ou caixa e é ideal para a fixação de cabos quebrados / danificados sendo flexível e eletricamente isolante.


Fácil de moldar
Uma vez aberto, tem 30 minutos para moldar o seu Sugru em qualquer forma - use-o para fixar, selar, construir ou mesmo colar coisas juntas. Uma vez totalmente ajustado (após 24 horas), o Sugru transforma-se numa borracha de silicone flexível e durável. Com pressa? Deixe a sua mistura à base de Sugru num local quente para acelerar o processo de cura.
Forte e durável
Uma vez preparado, o Sugru pode enfrentar qualquer coisa que lhe atires. É resistente às intempéries - por isso não desaparece ao sol e até lida com a água do mar com facilidade. Também é resistente à temperatura de -50°C (-58°F) a 180°C (356°F), dentro destes limites não vai ficar mais duro, mais macio ou derreter.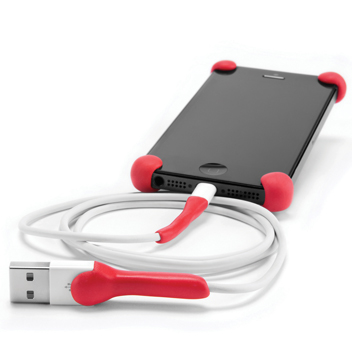 Macio, mas esticado
Devido às suas propriedades de silicone, Sugru é suave ao toque, mas também oferece uma aderência substancial. Ideal para um suporte de carro improvisado ou para adicionar um pouco mais de aderência ao seu telefone, cabo ou caixa.
Removível
O Sugru pode ser removido com facilidade cortando-o com uma faca afiada. Qualquer resíduo pode ser removido manualmente ou usando papel de seda.
Detalhes chave
| | |
| --- | --- |
| Peça n. | I000471 |
| UPC | 5060280540011 |
| Mobile Fun ID | 52960 |
| Côr | White |
Entrega e Devoluções
Coronavirus (Covid 19) - Customer Information - Temporarily unable to deliver goods.
Serviço de Correio - 4,49 €
Um serviço de correio fiável e de baixo custo, adequado às suas encomendas menos urgentes. Este serviço não é rastreado e é normalmente entregue em 4-8 dias úteis.
Serviço de Correio Rastreado - 9,49 €
Serviço de correio rastreado, seguro e confiável, geralmente entregue em 3-4 dias úteis.
Envio DHL Express - 19,99 €
Um serviço rápido, seguro e confiável. O seu artigo receberá tratamento prioritário e beneficiará de um serviço completo de rastreio online para que possa verificar o progresso da sua encomenda ao longo do percurso. Normalmente demora 1-2 dias úteis.