Bedside Storage Organiser - 4 Pocket - Black
Save your home from the clutter by organising your newspapers, TV/AV remotes, tech and even your night time snacks with this 4 pocket bedside storage. Features a compact design with an easy set up process - just tuck underneath your bed mattress!
Frequentemente comprados juntos
9,49€

inc. IVA

Era 12,99€ - você economiza 27%
ENTREGA STANDARD GRATUITA

Opções de entrega:

Envio rápido e seguro
Devoluções rápidas e fáceis de 30 dias
Caixa segura usando criptografia de 256 bits
Atendimento ao cliente
Cadastre-se em uma conta comercial
Comentários mais úteis
Comentários
255402

All i can say ie

Great products
Great Prices
Great Value
Great Service



| | |
| --- | --- |
| | Timothy Howard |
| | 7th Outubro 2019 |

255281

All our many remote controls in one place !
Wonderful .

Perfect for when you haven't room for a bedside cabinet

254778

Just what I had been looking for as with a very small bedroom we do not have room for bedside tables... Hangs perfectly on the side of the bed. The mattress holds it in place. Room for phone, remote or small tablet.

| | |
| --- | --- |
| | Linda Forth |
| | 27th Setembro 2019 |
Porquê comprar?
A convenient 4 pocket storage solution for your personal belongings
Easily find your items in the dark
Ideal for student dorms or small bedrooms
No assembly required - set it up in seconds
A design that will suit most of the decors
Descrição do produto
A convenient 4 pocket storage solution for your belongings
Keeping you and your house organised is a great start to a personal productivity. This quirky Bedside Storage Organiser is a perfect gadget to keep all of your most used belongings and gadgets in one place - three pockets at the front will fit your TV remotes, mobile phones, chargers and other frequently used peripherals. However, should you have any bulkier items, such as magazines, newspapers, books or even a tablet, you can safely store them away in the main inner document compartment. Having all of your belongings organised within your reach, will surely help you save time and reduce, or even eliminate the jumble in the room.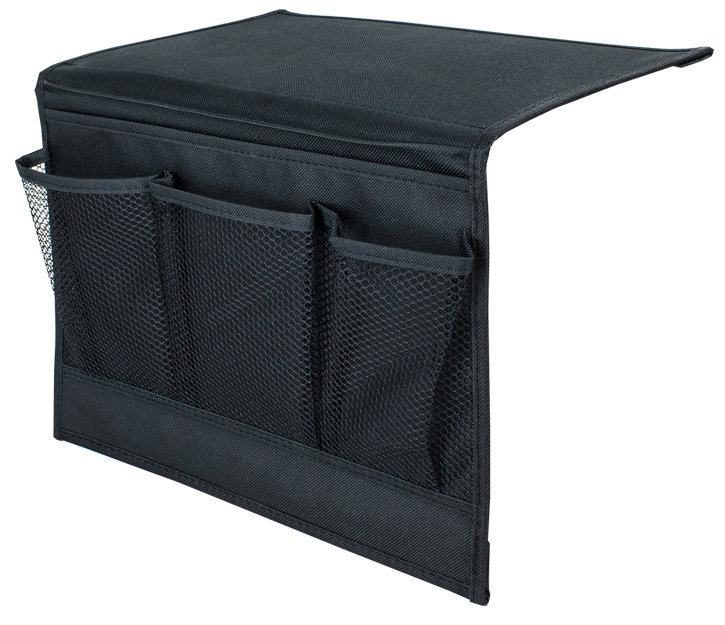 Easily find your items in the dark
Trying to find your TV remote or your mobile phone charger in a pitch black environment at night can lead to a deep frustration. It is not only time consuming, but can also be quite dangerous. Keep your medicine, chargers, remotes and mobile phones close to you with this Bedside Organiser, and eliminate the need of getting up to use them. You also no longer have to worry about stepping on your belongings, damaging them, or injuring yourself.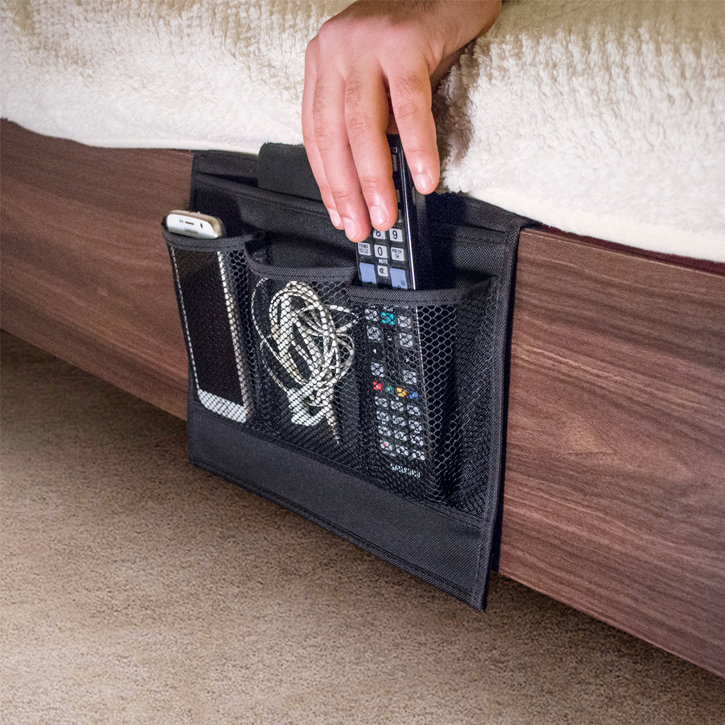 Ideal for student dorms or small bedrooms
Due to the space saving nature of the product, this Bedside Organiser is a perfect purchase for use in student dorms, small bedrooms or just rooms where there is no bedside storage. It will allow you to compactly store an array of your gadgets and belongings, making your room much tidier and less cluttered.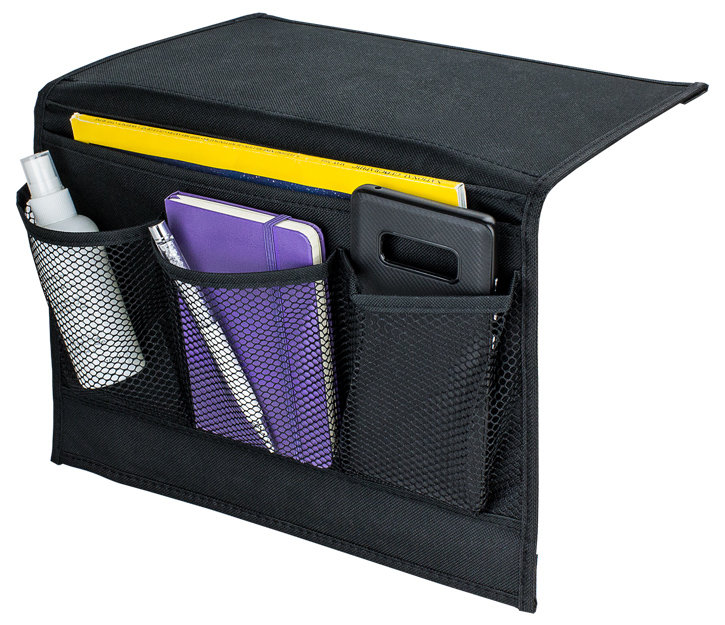 No assembly required - set it up in seconds
Whilst some of the bedside storage furniture can be difficult and time consuming to assemble, this bedside storage organiser requires no assembly. Just lift up your mattress to expose the bed frame, tuck one of the organizer's flaps between them and lower your mattress. The weight of your gadgets will be supported by the weight of your mattress, which means there is absolutely no need for any permanent fixture solutions. It will also make the removal process really fast and simple.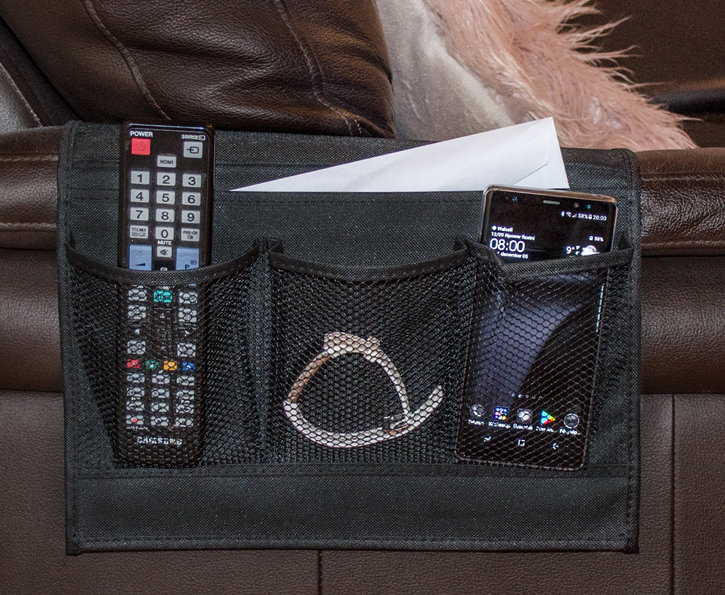 A design that will suit most of the decors
A traditional, dark colour design allows this Bedside Organiser to be really flexible and versatile, in terms of matching your current in-house decor. It will actually expose the true beauty of your home by making sure there is no clutter standing in its way.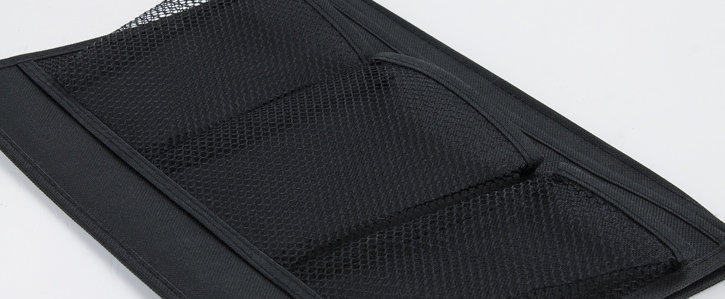 Detalhes chave
| | |
| --- | --- |
| UPC | 5056208100337 |
| Côr | Black |
Entrega e Devoluções
Serviço de Correio - 0 €
Um serviço de correio fiável e de baixo custo, adequado às suas encomendas menos urgentes. Este serviço não é rastreado e é normalmente entregue em 4-8 dias úteis.
Serviço de Correio Rastreado - 7,99 €
Serviço de correio rastreado, seguro e confiável, geralmente entregue em 3-4 dias úteis.
Envio DHL Express - 16,05 €
Um serviço rápido, seguro e confiável. O seu artigo receberá tratamento prioritário e beneficiará de um serviço completo de rastreio online para que possa verificar o progresso da sua encomenda ao longo do percurso. Normalmente demora 1-2 dias úteis.