Comentários mais úteis
Bruno Valentini
Roma
iPhone 7 plus
22 Janeiro 2017
Vero nice
I have an old car without a Navigator; I solved the problem And i can use the item on all my car and moto. Thanks .
Michael Ward
Leighton Buzzard
Bluboo
13 Janeiro 2017
Decent HUD
The box arrived with the following parts an instruction card, which does not tell you everything, but with just a little thought you can work out what the parts may be for. The easiest part is the HUD itself which comes with an ample sized cloth. In the front of the box there is the stand and ball socket nut. The instruction card shows how this is fitted, but I found the best way was to partially screw the nut into the underside of the HUD unit then clip the half ball mount into this. I must say the tightening of the nut is fiddly, particularly when there is so little clearance under the unit when it is on the dash. In a separate box, there is a spare reflective mirror a double sided mount sticker and a piece of wide smooth plastic strip, sticky on one side. The strip to be useful for those who have dashboards that are not very good for sticking small footprint articles to them like the adjustable base of the HUD. My own dashboard is such, that it has a matt crinkle type finish which looks effective, but is terrible for sticking anything to it. The plastic strip is a boon in this case, allowing a large surface error to stick to, with a smooth top to allow the foot print to be stuck down. The double sided mount sticker, could of course be used to give more height clearance under the bracket when it is on a slope. Not a bad unit, just a few minor gripes, As has been said the reflection onto the screen and the bracket for the top reflective screen could have been made to be raised to at least the thickness of most mobile phones, so that the mirror surface was level with the top of the phone when laid down.
Tony Dow
Derbyshire
iPhone 5s / Navmii app
16 Novembro 2016
Good but...
Works very well but, at night, shows reflection on device and also projected on windscreen. During the day the silver hinges also reflect on windscreen, these would be better black. Device comes with a number of additional parts with no explanation of what these are for. Overall I am very pleased with the functionality apart from the comments above.
11 Comentarios
|
Deixar um comentário
---
Informação adicional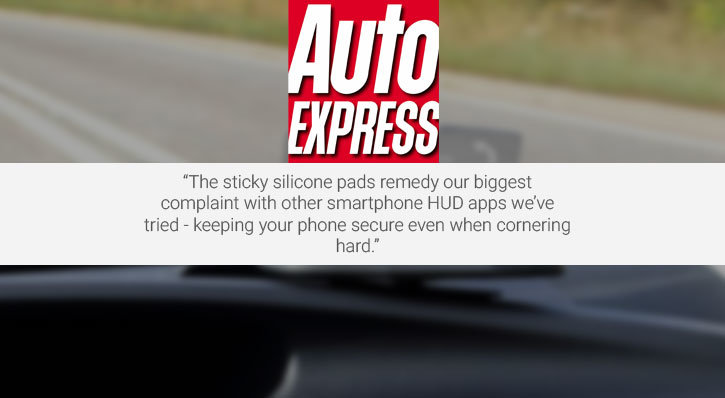 Inspired by military technology
We've all seen films where fighter pilots are battling it out in the clouds, peering into their HUD (head or heads up display) systems to lock on to their opponents or to navigate. Well now you can take advantage of similar technology with this awesome navigation aid. Only instead of soaring through the clouds, you will be soaring through your daily commute or journey.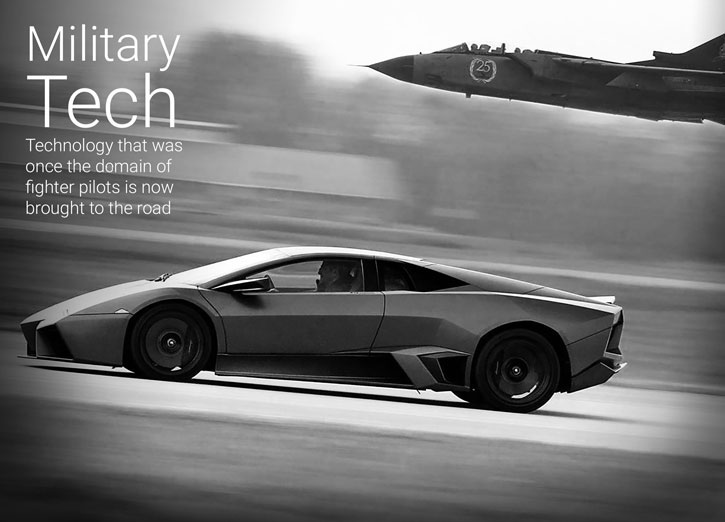 Combines with your smartphone to produce an effective in-car heads up display
The Head Up Display (HUD) In Car Mount Navigation System combines with your smartphone to produce a very effective in-car heads up display. No need to place a car holder right onto your windscreen, instead use the reflective qualities of this built-in mirror to view the road beyond and yet see fascinating and helpful details in front of you.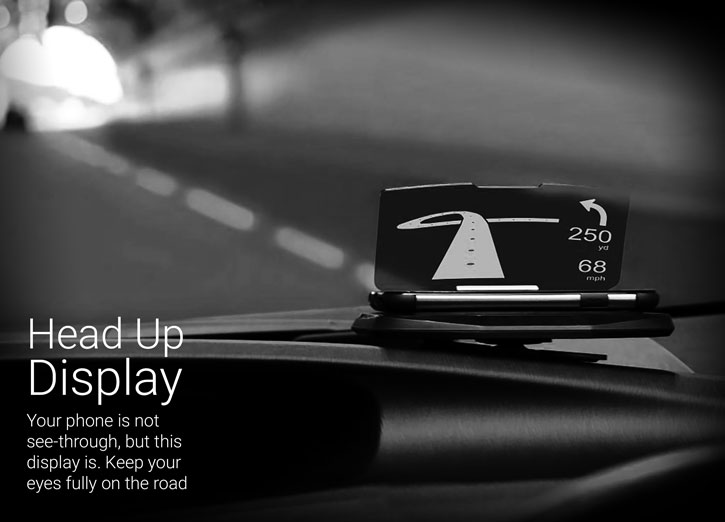 View the directions of your route and car performance details
Drive without having to take your eyes off the road to check you speed, revs and many other measurements - while also using specialised apps to view directions to your destination. Perfect for viewing on-board diagnostics information (when paired with compatible OBD2 interface) at a glance.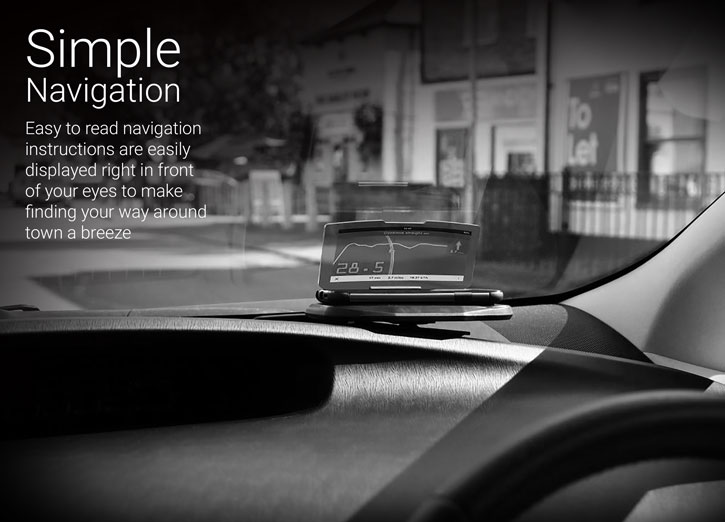 High quality reflective screen ensures maximum resolution for your smartphone display
The Head Up Display (HUD) In-Car Mount Navigation System's reflective screen is made of a super clear plastic that effectively features a mirror-like reflection, so your smartphone's display is perfectly seen.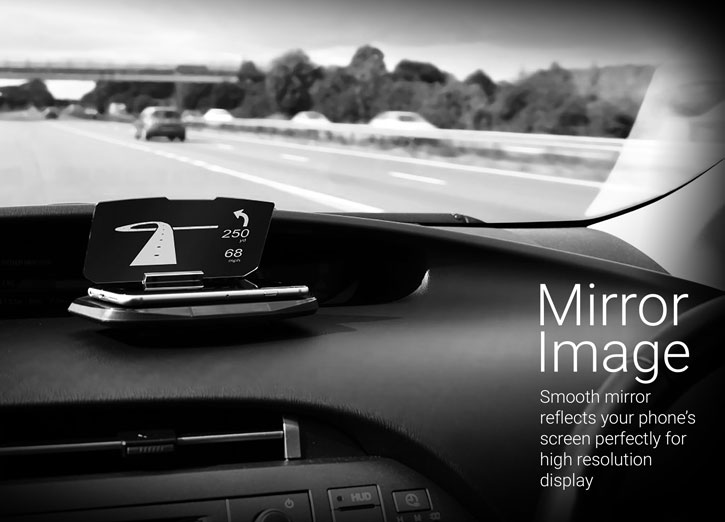 Built-in anti slip mat holds your phone in place
The HUD Mount has a built-in anti slip mat that secures your smartphone, keeping it in place even if you hit a pot hole or take a tight corner.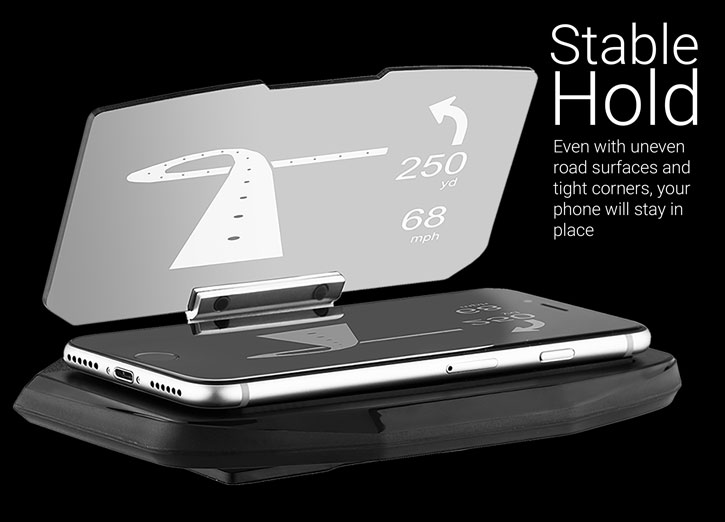 Vast array of available apps
With the vast array of HUD apps available such as HUDWAY, DigiHUD Speedometre and Torque - you have a huge amount of choice in the type of HUD you wish to display. Whether you wish to view directions to your destination or a wide array of car statistical information including your speed - there is an app available on either the Apple App Store or Google Play Store.

Easy installation
The Head Up Display (HUD) In Car Mount Navigation System is very easy to install. Simply attach the included adhesive mount to the HUD System, then attach the HUD unit to your preferred position on your car's dashboard.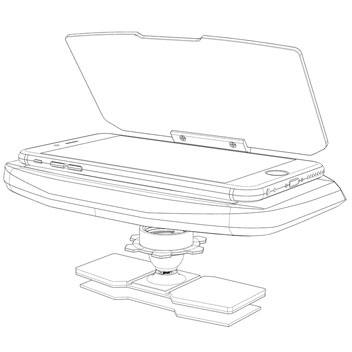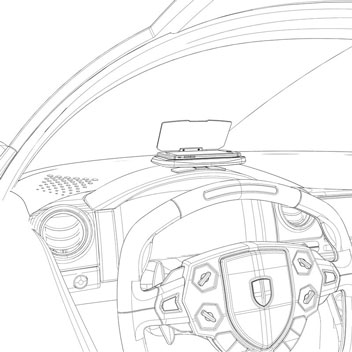 Compatible with iOS and Android smartphones
The Head Up Display (HUD) In-Car Mount Navigation System is compatible with a wide selection of smartphones that support Apple's iOS or Android. With the correct app, you can ensure your car is fitted with a futuristic-looking Heads Up Display.