Informação adicional

Charge your Qualcomm Quick Charge 2.0 compatible device up to 75% faster
What on earth is Quick Charge 2.0? Good question. Quick charge has been developed by Qualcomm so that devices running their latest SnapDragon processors can make use of significantly faster charging speeds. Why is faster charging important?
Faster charging is important because we are consistently seeing more powerful devices introduced all the time. Larger, high-definition displays, multi-core CPUs, and 4G contribute to a better mobile experience, but may also have a tendency to utilise the battery at a faster rate. To keep up with increased power demand, the typical smartphone battery capacity is increasing to around 3000mAh and a tablet battery can be as high as 12000mAh. Bigger batteries provide more endurance, but they also take longer to charge too.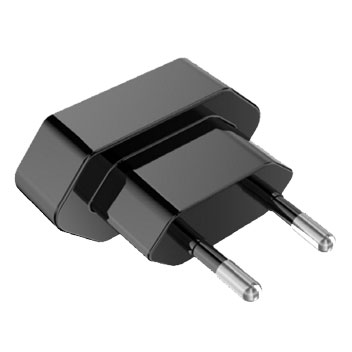 We've all been in the scenario where you have a low battery and very little time to charge it. Qualcomm Quick Charge 2.0 is designed to reduce the time wasted at the wall outlet by reducing the amount of time it takes to recharge when a Quick Charge 2.0 enabled device is paired with a Quick Charge 2.0 compatible power adapter.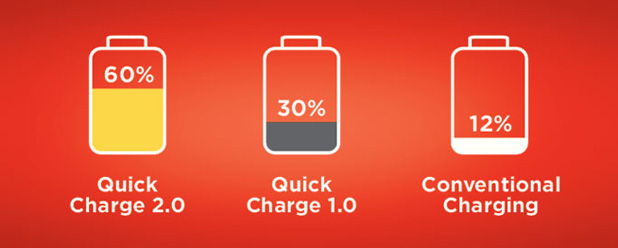 In laboratory tests using a 3300mAh battery, a Quick Charge 2.0 enabled device went from 0% to 60% charge in 30 minutes, while a device without Quick Charge 2.0 using a conventional (5 volt, 1 amp) charger achieved just a 12% gain in the same time.
This represents 75% faster - a significant step forward in reducing charging speed and makes this wall charger an absolutely essential accessory for anybody with a compatible device. Speaking of which...
Do you have a Qualcomm Quick Charge 2.0 Compatible device?
Currently, phones and tablets using the Snapdragon 400, 801 and 805 processors are compatible with Quick Charge 2.0. More phones will feature this technology as time goes by so check to see if your current or next phone is compatible.
If you have one of these devices, you can take advantage of the awesome charging speed Quick Charge 2.0 facilitates. If not, fear not, as this charger still charges faster than most devices on the market.
Safe charging guaranteed
The Official BlackBerry RC-1500 EU Mains Qualcomm 2.0 Rapid Charger has been constructed using industry grade materials and premium circuitry which will insure a safe charge every time, protecting your device and property.
Small, discreet and portable
The Official BlackBerry RC-1500 EU Mains Qualcomm 2.0 Rapid Charger has a very compact design, meaning that it'll easily fit in your travel bag.
Universal compatibility
Almost every gadget today can be charged via USB, making this device a must have for anybody who is always running low on battery on their must have gadgets. The BlackBerry RC-1500 can charge mobile phones, tablets, sat navs, Bluetooth devices, iPods, MP3 players, handheld game consoles and much more.