Olixar 3-in-1 Universal Clip Camera Lens Kit
Código do produto: LQ-001
Referência produto: 50698
Enhance your smartphone and tablet photography with this universal 3-in-1 lens kit. Combining fisheye, wide-angle and macro lenses in one easy quick-connect product with universal clip by Olixar.
"Good product really good"
"Great gadget"
"Well thought out Gadget"
Comentários mais úteis
Richard knowles
Hull East Yorkshire
iPhone 6s
23 Julho 2017
Good product really good
Good product really good and good service from mobile fun again recommended
Mrs Jay FitzGerald
Stroud
olixar-3-in-1-universal-clip-camera-lens-kit-
17 Abril 2017
Great gadget
Great little gadget, it does what it says on the box.
Robin Tims
King's Lynn
Sony Experia / iPad Pro 9.7
2 Fevereiro 2017
Well thought out Gadget
As an inexpensive add-on lens this is a neat idea and better than the rubber-band types previously tried as it is a lot easier to mount with a more positive fix. Easier to have with you too. Not really tested it in real use yet to be honest but on the screen the images are very promising. No trouble at all separating the lenses although given the wide view of the average phone camera a wide-angle lens seems a bit superfluous. For me the Macro lens is the one I need.
151 Comentarios
|
Deixar um comentário
---
Informação adicional
Instantly enhance your photography
The Olixar 3-in-1 universal Clip Camera Lens is a unique clip-on lens solution, which allows you to instantly transform your smartphone or tablet camera to take one of three different types of photo using the included lens: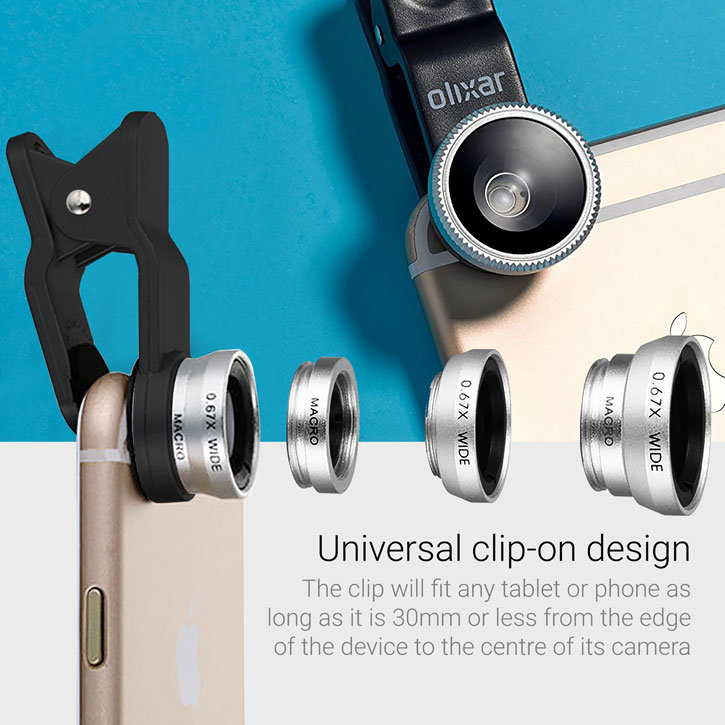 Wide Angle Lens - Perfect for capturing more of the world around you, allowing you to take photos of landscapes and group photos far easier than ever.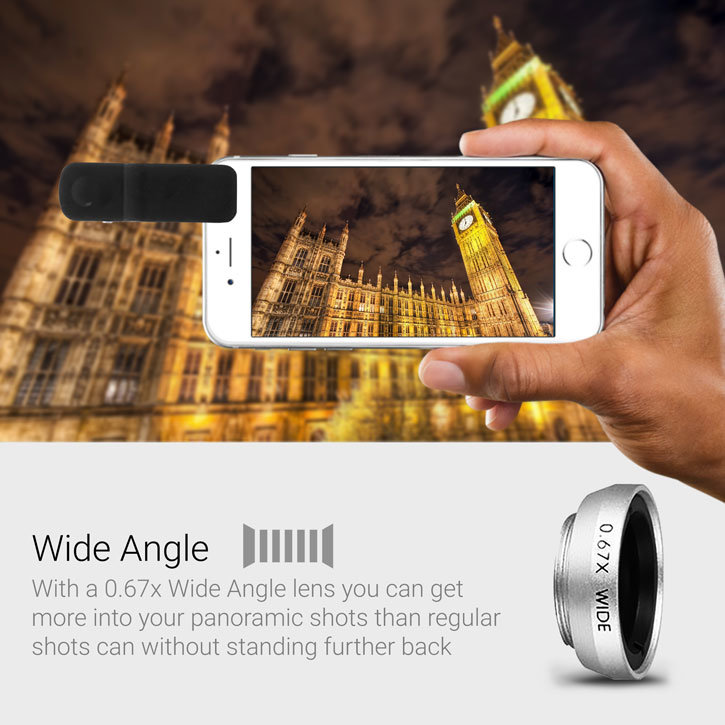 10x Macro Lens - The Macro lens allows you to achieve shots that are extremely close to an object, great for taking shots of small items to view every last detail up close.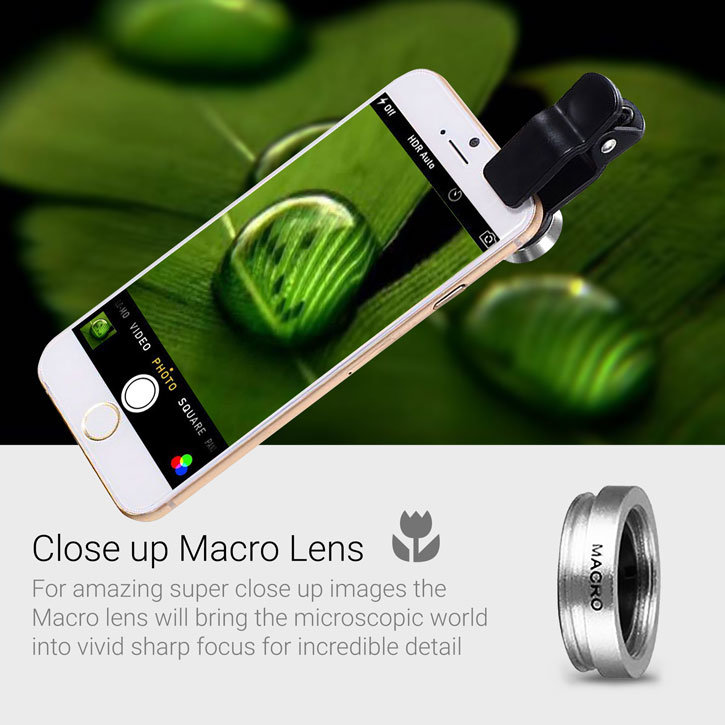 Fisheye Lens - With rounded edges instead of square ones, the Fisheye is an ultra wide angle lens.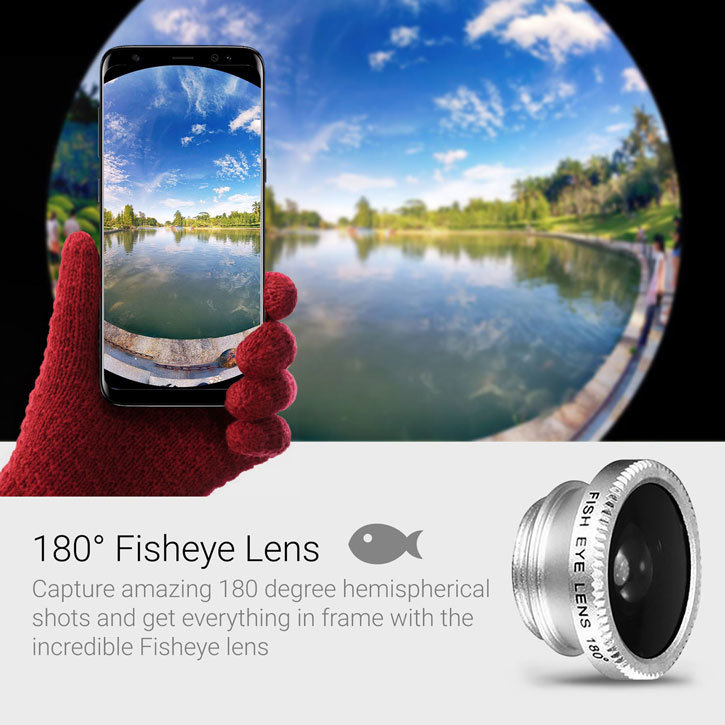 Universal clip for smartphone and tablet use
With the included universal clip, you can attach the camera lens of your choice to either your smartphone or tablet for stunning photography simply not possible with the device's built-in hardware.
Highly portable quick-connect solution
The 3-in-1 Universal Clip Camera Lens is unique in that it does not require a special case or adapter. Simply use the clip to attach over the existing camera on your smartphone or tablet for immediate results.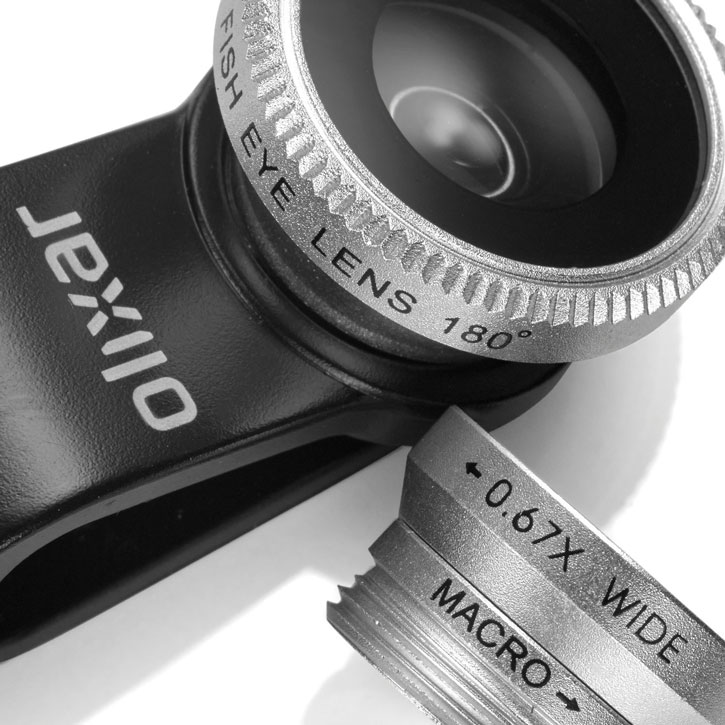 Supports use with any photography apps
The 3-in-1 Universal Clip Camera Lens perfectly accompanies your device's photography apps in order to create truly unique and stunning images. Ideal with instagram, Camera+, Hipstamatic and many more, so you can experiment and create exciting new photographic styles.
Please Note: The Macro Lens is accessed by unscrewing itself from the Wide Angle Lens.