Comentários mais úteis
Angela Appleford
London
iPhone
22 Julho 2017
Great 2nd buy
This multiple charger is great. This is my 2nd buy as I needed oa separate ne for when I'm travelling. Everything charges on this my iPhone iPad mini, ring doorbell and Fitbit. Have recommended it to all my friends.
Richard
Norfolk
Olixar 4 port travel adaptor
17 Junho 2017
Wish I had got one earlier.
Very useful and space saving charger, no need to take separate adaptors and chargers on your travels, this does the lot Charges MP3 players Smartphones cameras and tablets etc
Simine
London
Oliver travel adapter with 4 sub ports
7 Março 2017
Excellent product
Bought for travelling, but using at home too. It is an excellent piece of equipment. Charges quickly and will charge 4 different items at one go (although a bit slower)! Brilliant for travelling, just take the right slide on adapter for the country you are visiting and you don't need any other adapters Have bought 2 and will be buying more for other family members.
130 Comentarios
|
Deixar um comentário
---
Informação adicional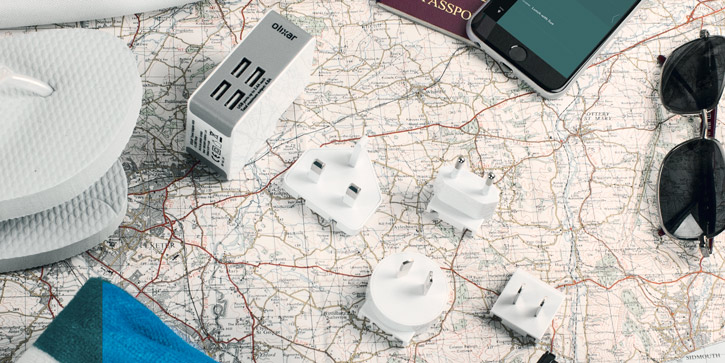 Perfect for at home or when travelling worldwide
The Olixar Travel Adapter is the perfect travel companion, to ensure all of your mobile devices are fully charged when you need them the most. However, with the 4 built-in USB ports, this accessory is also ideal for home use.
Using just one mains power socket, you can charge up to 4 devices at the same time.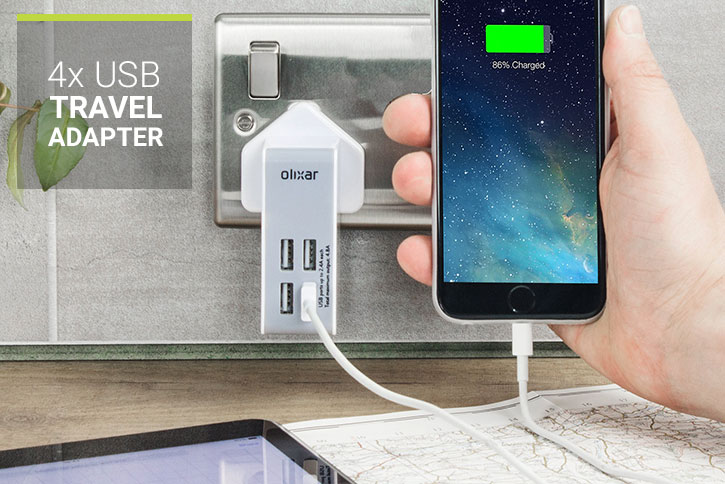 4 USB outputs let you charge four devices at once with rates up to 2.4 Amps
Whether you're looking to get the most out of your plug sockets at home or trying to save space in your luggage while on the road, the Olixar Travel Adapter with 4 USB Ports is the perfect solution. Featuring interchangeable mains adapters and capable of use with a 100-240V input, it is safe to use anywhere in the world.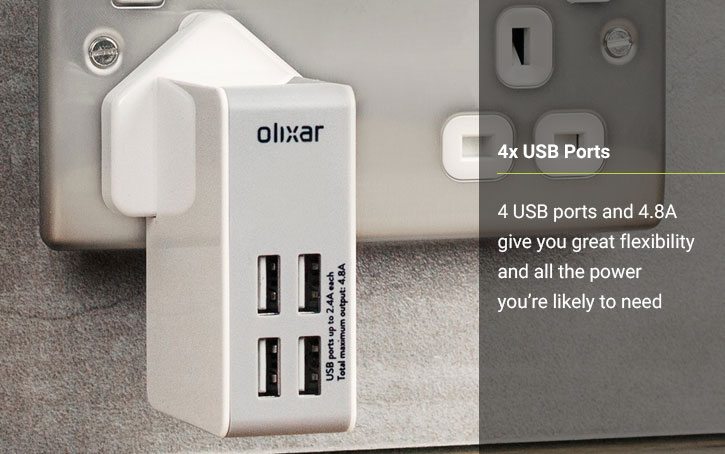 Up to 2.4 Amps output for quick recharging of mobile devices and tablets
Designed to replenish tablets such as the iPad Air and smartphones simultaneously, the Olixar Travel Adapter transfers up to a total of 4.8 Amps. This keeps keeps your mobile devices topped up with battery power even during short time frames.
The importance of achieving the correct charge rate is important to maximising the charging potential of your devices and this is because bigger and more powerful devices will require charges at a higher amperage. With USB ports capable of delivering up to 2.4 Amps, you can charge both smartphones (1A) and larger tablets (2.1A). Why not find out more?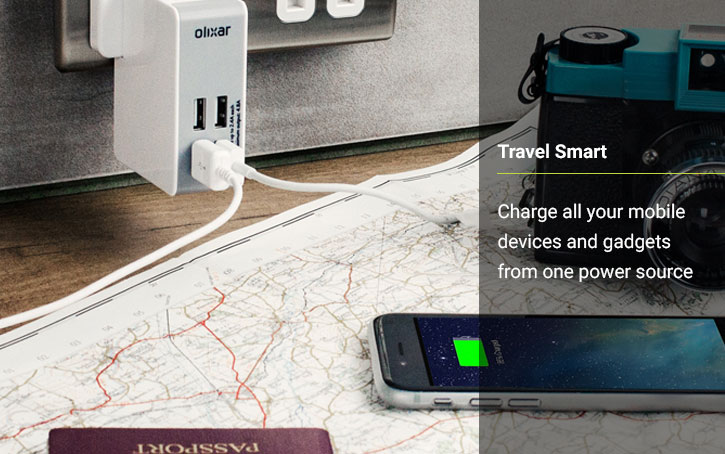 Smart IC to maximise charging speed
Confidently maximise the charging speed of your device with Smart IC, automatically identifying the device in order to quickly charge back to full capacity.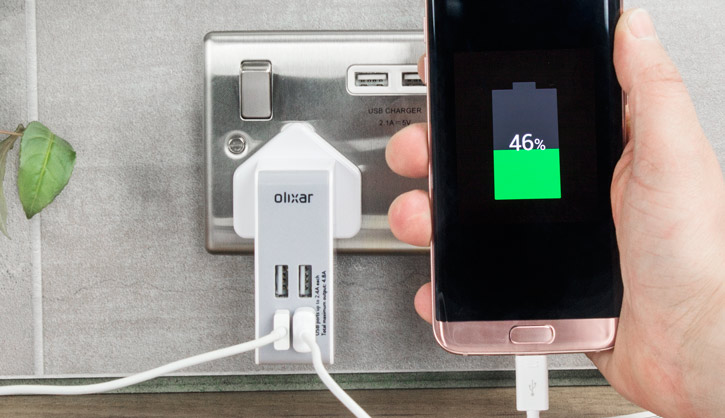 Includes adapters for EU, US, UK and Australian plug sockets
At home or abroad, the Olixar Travel Adapter is the only charger you'll need. The main unit is a cube and comes with adapters for EU, US, UK and Australian plug sockets that attach easily. All you need to take with you is the right adapter, which makes this travel charger more economical than most.
Compatible for use in over 150 countries, the Olixar Travel Adapter with 4 USB ports is your perfect travel companion.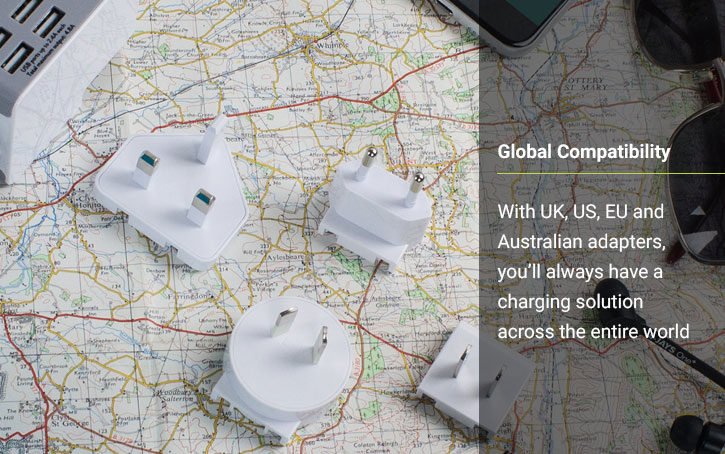 Above: The Main unit has 4 attachments that can easily be slotted into place. The 4 adapters (left to right: United Kingdom, top: European Union, bottom: Australia and right: United States of America) make up the power socket standards of over 150 countries, making this a truly versatile, vital and universal accessory.
Exceptional build quality and advanced circuitry design
Featuring advanced circuitry, the Olixar Travel Adapter is manufactured to the highest possible quality and includes reliable voltage, current, temperature and maximum charging protection when in use.