Comentários mais úteis
Geoffrey Pegg
North Norfolk
It 10.2" tablet
27 Fevereiro 2015
Screen Protetor
After searching for a 10.2" screen protector, I finally bought an expensive protector only to find they measure 10.2 which makes almost a square, when I looked again I found Mobile Fun and from their selection I chose the universal pack because all the sizes were stated so I new what I was going to get. They arrived quickly , and were easily cut to fit. First class
Fred
United Kingdom
iPad Mini, S3, iPhone 4S
9 Maio 2014
Great when you have loads of devices
Means I can cover every screen on all the devices I have for the cost of 1 screen protector :)
John Barry
Birmingham
Samsung Tablet
26 Outubro 2016
Good quality screen protectors
This pack has a good selection of different sized screen protectors for tablets and phones. I only actually needed one, but it's always handy to have some spares. My only reservation is that it would be easier to cut to size if grid markings were applied to one of the covering films, but it's easy enough to get round this with a marker pen.
15 Comentarios
|
Deixar um comentário
---
Informação adicional
10-in-1 pack of varying sized screen protectors
With the Olixar 10-in-1 Universal Screen Protector Pack you can protect the screens of all you mobile and tablet devices.
This pack comes with varying sized screen protectors that have been designed to cover the most popular screen sizes.
You get:
1 x 12.2" (296 x 205mm) screen protector
2 x 10.1" (262 x 186mm) screen protector
1 x 8" (211 x 136mm) screen protector
2 x 7" (199 x 123mm) screen protector
1 x 6" (166 x 86mm) screen protector
2 x 5" (141 x 72mm) screen protector
1 x 4" (124 x 65mm) screen protector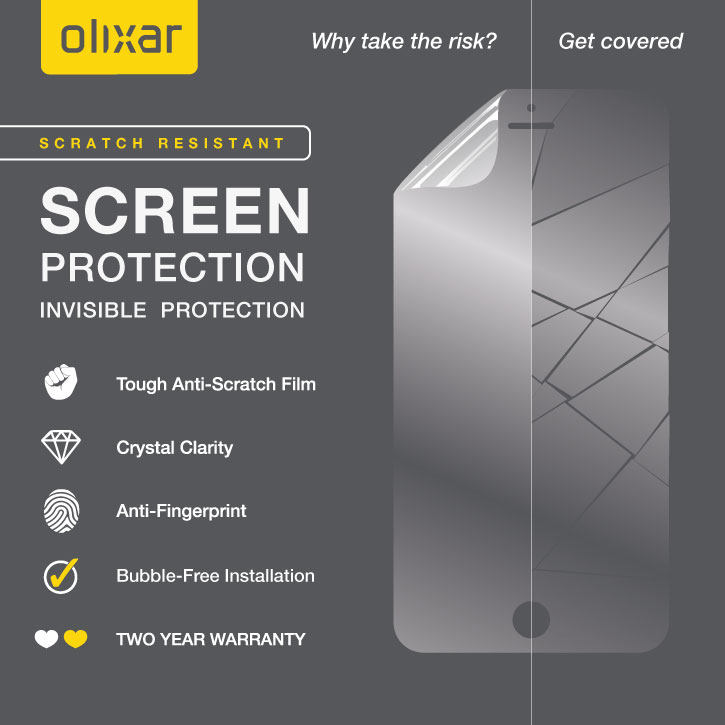 Prevents screen scratching and other damage
The Olixar range of screen protectors has been designed to keep your devices screen clear from scratches and scrapes that could hamper your visibility.
By creating a tough barrier between your screen and the world, any damage will be done to the screen protector and not the phone, keeping your device looking good as new.
Easy to apply
Olixar screen protectors are easy to apply. Simply pick the closest sized screen protector for your device and then cut it to size.
Clean the screen with the included microfibre cloth, line up the screen protector with your device and place it one. Use the application card to smooth out any bubbles. Once on, the screen protector is practically invisible.
Crystal clarity provides invisible protection
While it's important to protect your screen, it's also vital that the screen protector does not hinder your smartphone or tablet use by clouding the screen or decreasing the sensitivity of the touchscreen.
Olixar screen protectors are specially made to provide optimal clarity, while also being thin enough to keep your touchscreen in perfect working order. Once on, you wont even notice the Olixar screen protector is there.