CableJive dockBoss5 Apple Dock Universal Charging / Music Converter
Código do produto: DOCK-BOSS5
Referência produto: 39975
CableJive's dockBoss5 is a sleek adapter that converts Apple 30 pin dock stations to charge and play music from one or two devices.
"By accident"
Comentários mais úteis
Harry Holden
Unknown
iPod touch 5 gen
11 Novembro 2013
By accident
It is true. By chance I clicked on an article on you tube about speakers , of which over the years I have had many. On impulse I purchased the Bose , the review on you tube being the one I was watching. Luck or what, I am just glad I did.
9 Comentarios
|
Deixar um comentário
---
Informação adicional
dockBoss5 is a sleek, black, adapter that converts pre-iPhone 5 dock stations into a universal charge station with audio output. dockBoss5 is compatible with any 30-pin dock and all portable devices.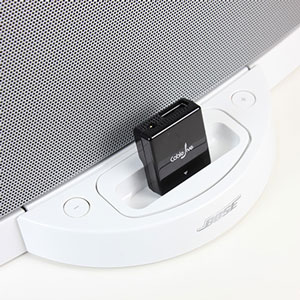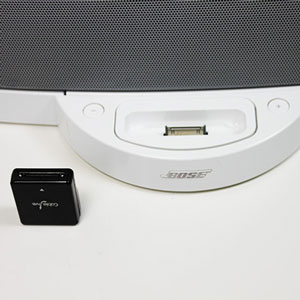 Convert your existing audio dock into a universal charge station

Plug it into any pre-iPhone 5 dock station and charge up all phone, tablet, or portable devices in your house using the USB port. Plug your charge cable in and power up. If you are after music facilities as well, plug any device in the audio jack cable.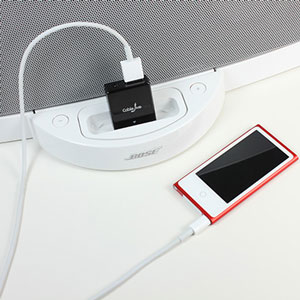 Works with your dock's remote control

This sleek, black adapter is smart - so much so, it is equipped to pass through the commands from your remote to pause, forward or rewind, using the visual clues to connect the cables to the adapter, and then to your phone.
Portable capacities
dockBoss5 adapts 30-pin car audio systems to work with all devices. What's more, dockBoss5 gives you the freedom to charge and hold your phone in your hand. Unlike Apple's adapter, dockBoss5 has a USB port for any charge cable. You don't have to lock your phone to the dock.

3 foot cable length
dockBoss has a 3-foot black cable to extend the reach of your docking station or cable, to give you flexibility in controlling your audio device.