iDuo Stylus Pen - Black
Referência produto: 34215
This black iDuo Stylus Pen has an omnidirectional tip which works with all capacitive touchscreens.
"SHOW ME THE MONEY"
"Ideal for my needs"
"Very good"
Também disponível:
Comentários mais úteis
Edward Lane
County Cork Ireland
Unknown
21 Julho 2016
SHOW ME THE MONEY
This is the 3rd iDuo Stylus Pen that i have bought in the last few months.I gave one to my Daughter and the other two i am keeping for myself even though other members of my family are looking for one. I have told them SHOW ME THE MONEY AND I WILL GET THEM ONE.What a great great item. Great for the phone as my fingers are a little big and its just what i need not to mention that i always have a writing pen handy.Thanks again Mobile fun. PS. Remember Mobile Fun. SHOW ME THE MONEY.
Natalie Slesuratin
Israel
iDuo Stylus Pen
13 Junho 2016
Ideal for my needs
I bought it for my son to use with his Sony Xperia Z3 Compact tablet and we both are happy with this purchase. The Stylus works great as a pen and as a stylus. I also impressed by my contacts with Customer Service - they answered all the questions immediately and any problem was solved with no time. Thank you and I will buy here more and will recommend the store to my friends.
Dejan
Belgrade, Serbia
Huawei P8 Lite
8 Junho 2016
Very good
Just about the right diameter that fits perfectly in my hand. Very good stylus pen. Warm recommendation.
165 Comentarios
|
Deixar um comentário
---
Informação adicional
Omnidirectional tip for accurate on-screen interaction

The iDuo stylus has an omnidirectional tip which you are able to use on-screen in any direction you wish. This allows for accurate on-screen movements, drawings and precision touches.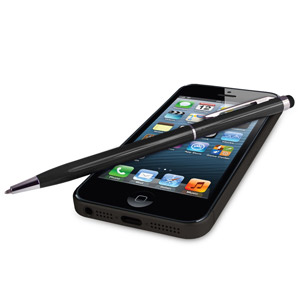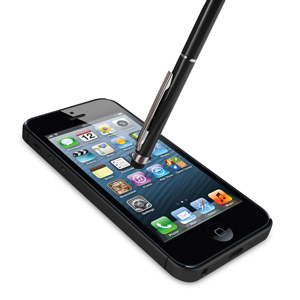 Reduces on-screen fingerprints

With the use of a stylus, on-screen fingerprints and smudges will be significantly reduced which improves screen clarity enabling you to use your tablet for a much longer time without getting frustrated and having to clean it.
Works with all capacitive screens

This stylus will work with all capacitive touch screen tablets and phones, which is 99% of the latest devices.
High quality ballpoint pen at the other end

If the great stylus wasn't enough for you, there is a built-in ballpoint pen at the other end which is revealed by twisting off the cap. This means you can take the stylus everywhere with you - and always have somewhere to use it.